Howdy! Tachibana is here.
Weekly Column #3.
Today I'll show you backstage of JAWS DAYS; how we prepare for the event.
Tools for collaboration
We have 50 or so members who only help to develop the event. They are volunteers and live in different places in Japan. They have different places live in and different jobs, we have no chance to meet in face-to-face, so that our team communicate each other on online. We use the following tools to collaborate:
Taks management tool: Backlog
Communication tool: Slack
Document tool: Google Docs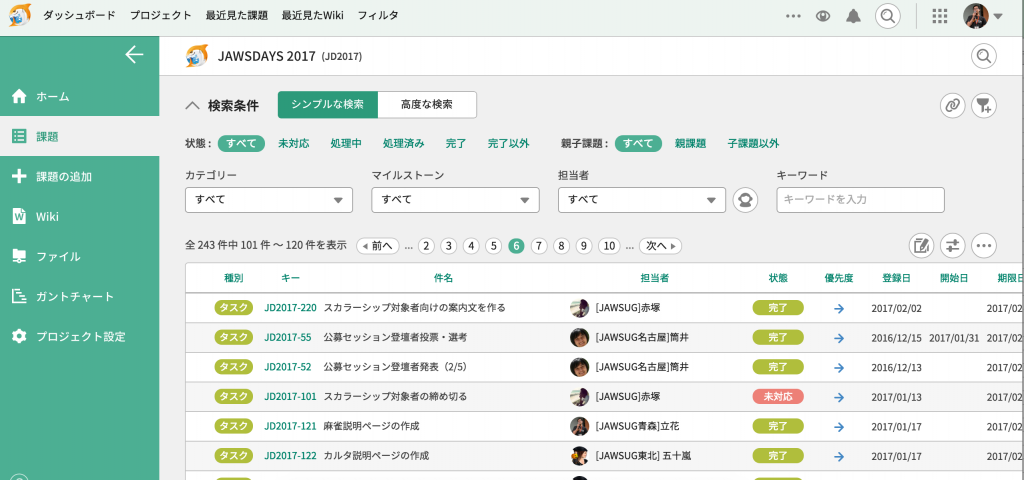 I think collaboration and communicating tools are almost same as your team use. Members have the own know-how to management their tasks. If you have rare chances to use online communication tools, you'll learn how to do it and know how to work away from the office, from helping JAWS DAYS event.
Our Teams
We have many things should be done. We organise groups for each type of tasks. They help event during their working hours. We assembled a group which consists of 3-10 people per group, if someone gets busy with their private and work, he might be hard to do his duties so that other member can follow up his duties. Here are the JAWS DAYS 2017 teams:
Session Team: Planning sessions, selecting and scheduling speaker and making speakers' profile pages
Public Sessions Team: announce and selecting speakers for general sessions and making speakers' profile pages
IoT Hands-on Team: Planning hands-on contents, creating manuals and procuring the necessary parts.
Alexa Hands-on Team: Planning hands-on materials, creating manuals and purchasing the necessary parts.
AWS Workshop Team: Planning workshop contents, selecting and scheduling speaker and making speakers' profile pages
PR Team: Building and operating JAWS DAYS website, socials and attracting guests
Facility Team: Venue Assign arrangements for furnishings and printed materials, prepare daycare centres and arrange lunch boxes for sessions during lunch time.
Design Team: Responsible for creating and organising website and prints, developing and assessing T-shirts for speaker and staffs.
Social Gathering Team: Planning social gathering, announcing and selecting speakers for public Lightning talk, and making speakers' profile pages
Attraction Team: AWS card game (AWS Karuta)、AWS mahjong
Supporter Team: Communicating and scheduling with enterprise supporters, media supporters and community friendships
Overseas and locals scholarship: Communicating, scheduling and planning with overseas users and local scholarship.
Moreover, I'd like to thank Backlog daddy and mommy who are nitpicking watching and following up with members' tasks on backlog.
Thanks to the accumulation of having JAWS DAYS, JAWS FESTA, and workshops, we have accumulated experience and know-how about event operations; these experiences make us an advanced manager of event management.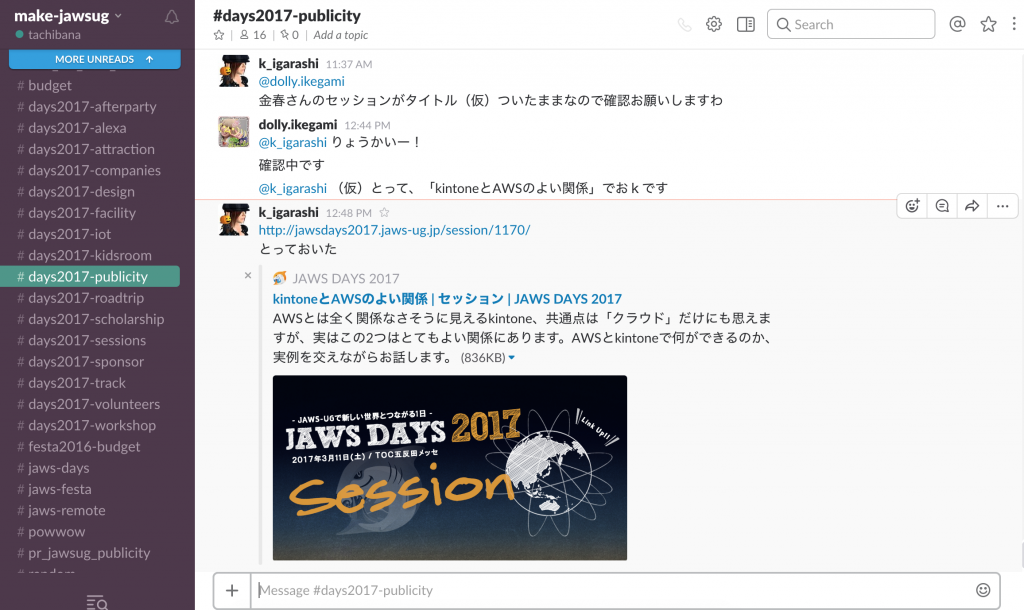 Scheduling
Usually, we had decided the venue where we hold the JAWS DAYS, before half of year from the event. JAWS DAYS 2017 will hold 1,500 participants; it was very hard to choose the venue which has the large capacity. We had decided to search and choose the site as fast as we can. Finally, we can hold the place in August in last year.
We had started to arise the volunteer staffs for JAWS DAYS 2017 in middle of November. We really get busy since January 2017. Sometimes we may worry about the event, and sometimes conflicting opinions against our members. All our members, staffs and I think "I hope every participants enjoying the JAWS DAYS!", "I hope everyone delights in the knowledge of AWS!", "I hope more people will join members of JAWS-UG! ".
Ladies and gentlemen, one month to go! Let's do our best!
---
Err, sometimes, someone asks "hey, what are you -chairperson- doing". Honestly, I do nothing, that's all my task, except writing weekly columns. No, it's kidding. My members are working on their jobs, voluntary, so I concentrate on detailed work such as checking tasks progress, interfacing between teams, contacting with AWSJ, entering data and so on.
(I promise not to update JAWS DAYS website anymore! Because I blew up all the of the data before I had touched it!)
And pray my Lord in every morning and night that many participants join the event.
(You already have ticket? Not yet? Submit it via following URL, now.)
The successive chairperson of JAWS DAYS also had blog post for preparation with the event in the past
If you have any interest in launching event in the community, I hope you should try to start it.