Introducing AWS User Group Taiwan
Briefing AWS adoption on Taiwan
Some open-sourced projects I've been working on
Guanyu – Sophos-AV-as-a-Service
kms-local – API-level clone to AWS KMS
登壇者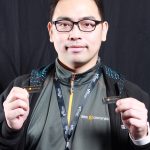 Cliff Chao-kuan Lu
所属: 104 Corp. Leading job bank in Taiwan for 25 years.
Cliff Chao-kuan, senior architect in 104 Corp. has played roles as solutions architect, DevOps, and tech evangelist in Taiwan start-ups and enterprises since 2010. He is experienced in service migration and has built tools and patterns to facilitate cloud adoption.
Cliff is the organizer of the AWS User Group Taiwan and has been an active member since 2014. The group has 4,500 members and has held regular meet-ups since it was founded 2012.
104 Corp. has been the leading Jab Bank in Taiwan since it was founded in 1996. Like other enterprises that rose before cloud, it relies on manual operation and suffered from capacity management and hardware failure.
We at 104 Corp. see public cloud as an opportunity for business agility, scalability, and cost effectiveness.
主な聴講者
Those interested or experienced in building local User Group
Python / Node.js developers who'd like to keep an eye on fun open-sourced projects around AWS
資料
その他
発表は英語になりますが、日本語の同時通訳が入ります。